4 Ways For Sales Development To Enhance Pipeline Generation
By investing in these four strategies, sales and marketing teams can significantly upgrade their pipeline generation and qualified leads.
,
Since its experimental Silicon Valley origins in the '80s, sales development continues its growth as a strategic go-to-market (GTM) operation. Faced with inadequate pipeline and a trepidatious transition to permanent virtual selling, 70% of chief sales officers (CSOs) are implementing or considering investing in sales development representative (SDR) teams to generate pipeline in 2021. After all, what sales leader wouldn't want to know that at least 40% of their pipeline for two to three quarters down the road is engaging with your company today?
However, sales development is not a guarantee, as only 48% of SDR teams consistently hit their quota. Organizations can't hire SDRs and expect productivity without adequate resourcing. SDR goal attainment struggles are often attributed to a combination of unrealistic quota setting, limited operational guidance and poor execution — and those are just internal factors.
For effective pipeline generation, sales and marketing leaders must invest in four key levers to yield a sufficient volume of qualified opportunities from sales development.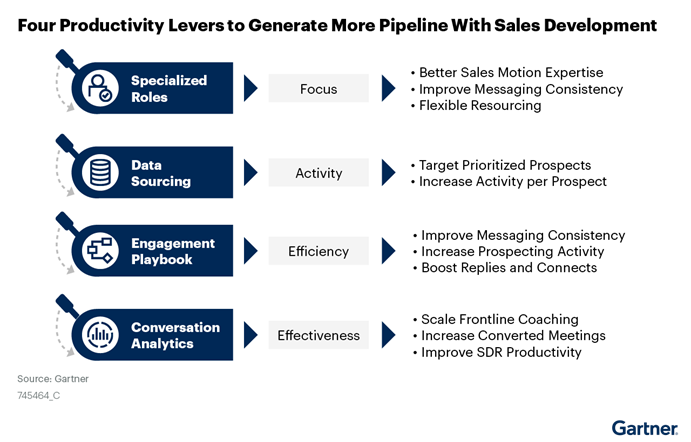 1. Narrow Scope With Specialized SDR Roles
Specialization in the design of the SDR role itself improves overall productivity through focus, as it enables flexible resource allocation to help deploy SDRs against a specific audience to proactively address pipeline coverage gaps. By focusing on a narrower scope of sales motion, industry vertical or account type, SDRs develop deeper expertise on the subject, thus yielding more effective prospecting.
A tiered-coverage model, based on the organization's ideal customer profile (ICP), guides SDRs to prioritize groups of prospect accounts with larger deal sizes, a higher likelihood to close, faster sales cycles or prospect targets that are strategically important for the company but hard to connect with.
Based on how leads are sourced and the approach to account targeting within a given market segment, SDRs should be specialized into one of three types: Inbound, market development and target account.
Each motion has a different charter based on market dynamics, such as market maturity, size of the target account list (TAL), average sales price (ASP), length of sales cycles and buyer profile complexity. Any organization can specialize by motion if they receive enough inbound demand to warrant it; for example, approximately 300 leads per month can support one full-time inbound SDR.
2. Shift Data Responsibilities Away From SDRs
Using SDRs to perform large volumes of manual data entry is an inefficient use of selling resources. Redirect SDRs' time to high-impact sales engagement tasks by dedicating demand generation or operations resources to streamline the data management process for SDRs.
This requires resources to periodically calculate data coverage needs, source new data from third parties and then load the data into the CRM. Existing CRM data requires continuously evaluating depth and quality, appending/enriching data with data intelligence and, if necessary, orchestrating low-cost resources to scrub and append the CRM with updated data.
CSOs who want immediate productivity gains from their sales development team must enlist help from their operations and/or marketing partners.
3. Align Workflows With Sales Engagement Strategies
Sales development today is nearly ubiquitous with sales engagement technology. According to a 2020 Gartner survey of sales engagement technology buyers, 93% of sales development teams said this technology has a high or very high impact on their business.
An effective sales engagement playbook accelerates SDR ramp times and increases SDR productivity.
The playbook is designed to help SDRs execute touch patterns, which are a progression of messages distributed across multiple channels over a set number of days. The playbook simplifies SDR decision making with prospecting workflow guidance on which touch patterns to use and how to execute messaging.
Messaging guidance exists at every step of the touch pattern, regardless of channel. World class SDR teams tailor touch patterns to the lead source and buying stage of the prospect. More advanced teams optimize their touch patterns continuously based on buyer sentiment, call outcomes and conversion rates.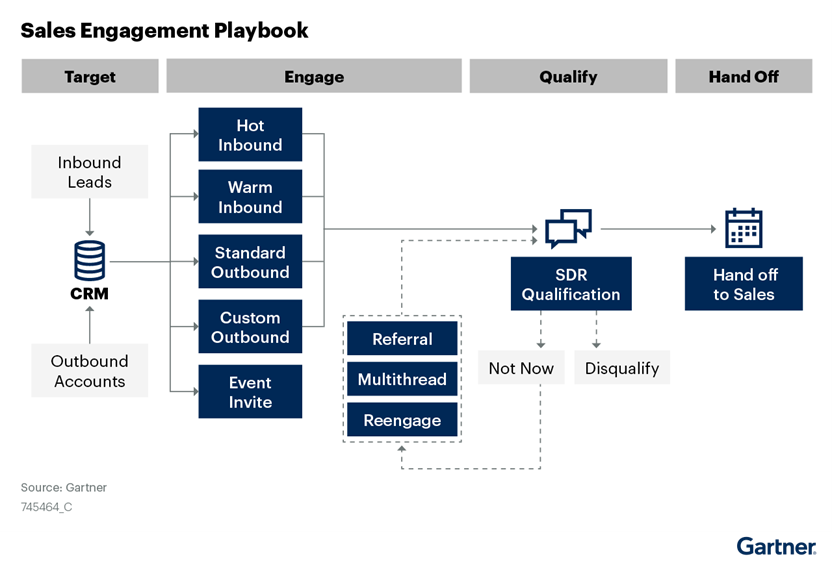 4. Guide Manager Impact Using Conversation Intelligence Technology
While the first three levers help SDRs set up more conversations, conversation intelligence ensures SDRs successfully convert them into opportunities and enables managers to accelerate the impact of call coaching.
SDRs require approximately four to six hours of 1:1 coaching per month. Managers can scale their impact with guidance from conversation intelligence technology, which identifies which behaviors to coach based on outcomes (as opposed to manager instinct), then uses artificial intelligence to help determine which calls to prioritize. This results in coaching conversations focused on high-impact behaviors. SDRs can receive customized coaching experiences based on what their managers hear in the calls and what the data indicates are top priorities.
One case study by Gartner found that a team of 50 SDRs divided between five managers increased SDR appointment booking rates by five times after deploying conversation intelligence, making SDRs one of the organization's most cost-effective pipeline generation channels.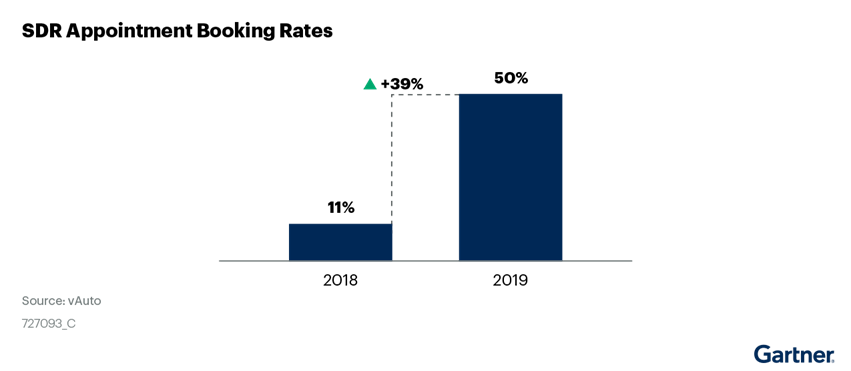 As you can see, sales development has come a long way from "dialing for dollars" — which lever are you going to pull first?
---
Dan Gottlieb is a Director Analyst in the Gartner for Sales practice. He covers a spectrum of topics across sales development, sales strategy, enablement and operations. As a SaaS sales leader, Gottlieb's responsibilities spanned quota-carrying sales, operations and enablement at fast-growing SaaS companies.
This story premiered on our sister site, DemandGen Report.