Excellent Collaboration: A Key Step To Building Marketing Success
When marketing teams are armed with powerful collaboration tools, streamlined business success will naturally follow.
,
It's long been recognized that good collaboration is the key to success. This is true of many industries and successful partnerships. Unfortunately, marketing can be a particularly challenging area in which to ensure effective collaboration.
In any business, there are different areas involved under the umbrella of 'marketing'. For example, there might be Content Marketing, Public Relations, SEM, Social Media, and so on. These areas are often managed separately, within different sub-departments and managers, making effective collaboration difficult.
There are many tools to help marketing teams to collaborate, streamline projects, and work with sales teams and other areas of the business. These tools can also help remote or divided teams to stay connected. With the world moving more towards remote working, it is even more important to get this right.
For effective collaboration, teams need to feel like they are being supported. They need to be in an environment that is conducive to working together and makes it easy to do so. There are project management apps to help users work together on design elements. Team members can access collective roadmaps and create mock-ups, allowing real-time feedback. Virtual whiteboards allow marketing teams to plan projects together, even if they're apart.
Collaboration Tools Are Essential To Any Team
Tools that focus on improving communication make a big difference to any team. Eighty percent of businesses are now using social collaboration tools to advance business processes.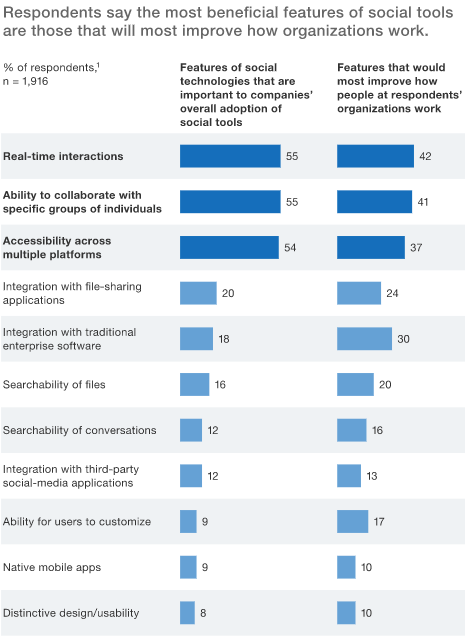 Source: McKinsey Digital
Enterprise communication solutions can help to streamline work, minimize switching between apps, organize workflows with team messaging, file sharing and task management and also provide integrated messaging, video meetings and phone calls. Utilizing these solutions has the added bonus result of your overall communications costs being lower.
A multi-line phone system can be very useful for promoting collaboration across teams. It's necessary to make it as easy as possible for your marketing teams to communicate with each other. Such a system allows VoIP calling and conferencing, which facilitates discussion and collaboration regardless of location.
It can also provide other functions such as texting, faxing, and online meetings. Keeping teams connected in this way enables working together, without any technical barriers. This is a useful solution for any office, but it's particularly helpful for a call center or entirely home-based team.
CRM (Customer relationship management) is a technology for managing all interactions with customers. A good CRM system is important for any consumer-based business, helping companies stay connected to customers, streamline processes and work collaboratively.
It supports the whole business, from marketing, sales, customer service, to business development. For example, the marketing team will need to upload content to support the sales team. Even the accounting team can use the CRM to ensure customers pay their invoices on time.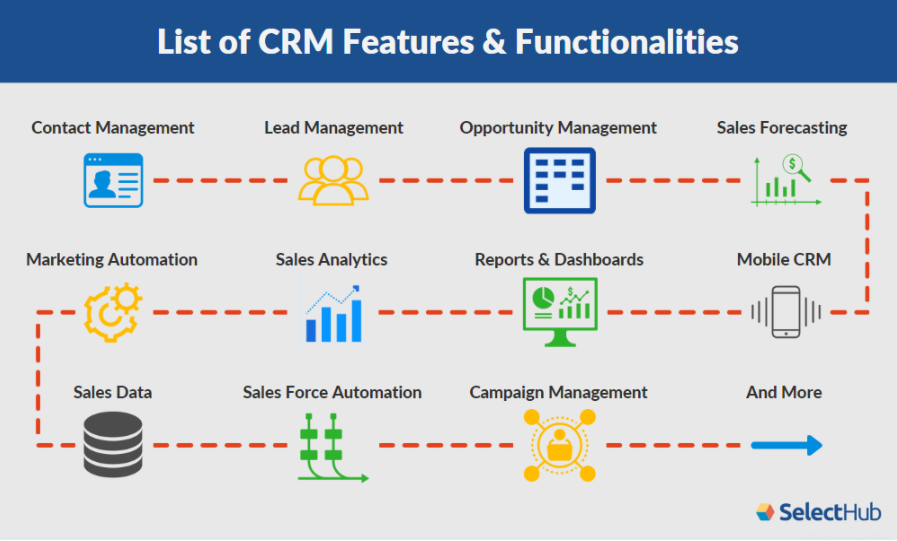 Source: SelectHub
Easy access to data results in easier collaboration and increased productivity. Having one centralized location for lots of processes also helps with knowledge sharing. For marketing teams specifically, one central communication platform ensures messaging is always on-brand. It also gives the ability to create and store answers to frequent questions.
Teams Collaborate With Each Other
Only 23% of salespeople say marketers send over sales-ready leads. This highlights the fact that marketing and sales teams are not working collaboratively. Marketing teams want to draw traffic and leads, while sales teams want to close deals. Both goals are relevant, but these teams need to be working together in order to be effective.
One possible solution is marketing automation. By using software to streamline some of your team's marketing activities, activities that are routine, repetitive, or non-essential can be automated. This frees up the marketing team to spend time on more complex tasks, giving them more time to nurture leads and improve their targeted campaigns. It also assists the sales team, making relevant information automatically available to them. With the easier points solved, they can concentrate on using open-ended questions for sales. This will result in improved overall success, and the teams worked together to achieve it!
We must not forget that good marketing is backed by strong inventory management. It's what keeps items from going out of stock and maximizes the time and cost of fulfillment. The same is true for its connection to sales, as well. For these areas to run smoothly, it's important to consider inventory accounting. Using a single retail management platform will allow your teams to collaborate effectively. This will lead to increased awareness of stock and better-informed campaigns.
Key Takeaways
Providing your marketing teams with appropriate tools will significantly improve collaboration. They will feel supported, and this makes it easier to work together to achieve goals. You will see improvements within their teams, and across the business as a whole. Processes will run more smoothly, and projects will be far more streamlined. In the digital world, it's becoming easier to collaborate, but we are prioritizing it less. Make sure your business is not left behind and invest in methods to help your teams work together.
---
John Allen, Director, Global SEO at RingCentral, a global UCaaS, VoIP Phone Service and contact center software provider. He has over 14 years of experience and an extensive background in building and optimizing digital marketing programs. He has written for websites such as Mood Media and StevieAwards.
This story premiered on our sister site, DemandGen Report.