Integrated Channel Campaigns Boost Email Performance
Email campaigns are no longer effective alone, but by integrating with other digital and physical channels, they create real synergized strategies.
,
Despite predictions of its demise, email is not dead. In fact, it continues to be the top channel marketers use to drive demand, according to Demand Gen Report's 2019 Demand Generation Benchmark Survey. More than half (54%) of respondents ranked email on top, with the company website (48%) and in-person events (47%) trailing closely behind.
However, emails alone — especially generic or irrelevant emails — are no longer an effective channel to engage buyers. Marketers are starting to take a more personalized, ABM-like approach to their email marketing by augmenting their strategies with additional channels such as direct mail and chat bots, and delivering more relevant, authentic content in nurture emails.
Companies such as ChannelAdvisor and PathFactory are taking their email strategies up a notch by incorporating additional channels and taking a creative approach to their emails to stand out from the crowd.
"Despite what you might hear in some circles, email still has a major role to play in most companies' demand gen strategies," said Howard Sewell, President of Spear Marketing, in an interview with Demand Gen Report.
"However, these days, it's less likely to be a standalone channel. More often, we're seeing email used as a key part of a more integrated approach, particularly in the context of ABM and sales enablement. Email isn't dead, by any means, but marketers are realizing that there's a real synergy possible by combining email with other channels, both online and offline."
Amplify Email Outreach With Integrated Channels
Experts noted that taking an omnichannel approach to email marketing and using other channels to augment engagement is important to stand out from the crowd.
Now more than ever, buyers want to have conversations on their terms, on their channels. Email is not always their first choice, so integrating social, SMS, chatbots and direct mail can help spark engagement and even glean new information on a prospect before starting email reach out.
"I have so many clients asking about integrating additional channels, such as social, SMS and direct mail, with their email marketing," said Kim Roman, Senior Principal Consultant for Oracle Expert Services, in a statement to Demand Gen Report.
"Many are looking to apps that integrate directly with their email marketing platforms, so they can either use email to follow up, continue the conversation from other channels or interact with customers/prospects via other channels based on their interaction with emails."
These additional, integrated channels are especially effective with customers and/or prospects that have become unresponsive to traditional outreach.
For example, ChannelAdvisor, a provider of e-commerce solutions, developed a unique ABM program to target prospects at top accounts who did not engage with the company for some time or couldn't be reached. To move the prospects further down the funnel — knowing that modern professionals are constantly bombarded with emails and online ads — the company developed two targeted direct mail campaigns with help from PFL, a direct mail marketing platform.
The first campaign involved sending 116 prospects an Amazon Tap device with a CTA to enable ChannelAdvisor's Alexa Skill and a handwritten note from a sales rep. The other consisted of sending the remaining accounts an Amazon Fire 7 tablet pre-loaded with the ChannelAdvisor app.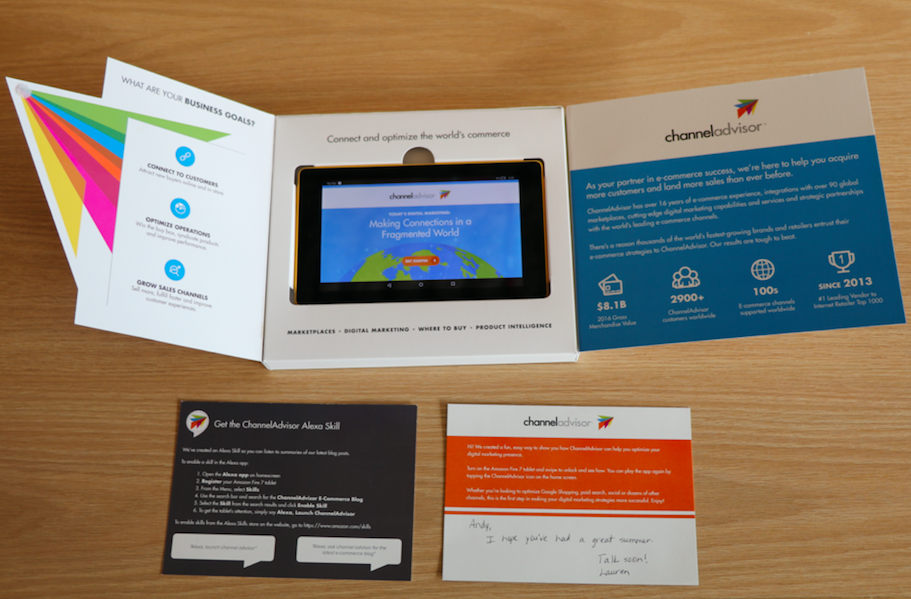 In both campaigns, the ChannelAdvisor marketing team tracked the shipment of the boxes so a sales executive could follow up with each prospect within 48 hours of delivery confirmation. The two campaigns delivered a ROI of 130% and delivered a 18% success rate based on new opportunity creation or existing opportunity advancement in the sales cycle.
"We had been hammering prospects through all the traditional channels like email, but so was everyone else," said Bradley Hearn, Content Marketing Strategist at ChannelAdvisor.
"The idea of the campaign was to break through the clutter, create a memorable interaction and initiate actual conversations with our sales folks. We coordinated with our sales department to follow up with the prospects within 48 hours of delivery."
Delivering an effective omnichannel strategy can be a burden on the company's budget and/or bandwidth. If you're unable to orchestrate a true omnichannel campaign, Chad S. White, Head of Research for Oracle Marketing Cloud Consulting, suggests breaking down the marketing silos within your company.
"Meet regularly with your marketing counterparts in social, SEM, advertising, print and elsewhere to share insights," he said. "Use email to test messaging and imagery and then use the winner in a print campaign. Use keywords that are performing well in search in the subject lines of your emails. Person-to-person knowledge sharing is a great way to lay the organizational groundwork for working toward a sophisticated omnichannel future."
Revisiting And Readjusting Nurture Strategies
Automation has allowed marketers to batch and blast emails to audiences on schedule, but this has led to messaging being sent to recipients at irrelevant times, even though the content was right. Oracle's Roman advised taking a more behavior-driven approach to nurtures.
"Nurture series are becoming more behavior-driven in their timing, not just their content."
"For instance, you might be sending a lead nurture series of emails spaced X number of days apart," said Roman. "Sure, you may have different tracks based on product interest or industry, but everyone would flow through and receive emails at the same intervals no matter what. Now, the trend is having the level and frequency of prospect engagement drive the pace of the emails — faster or slower — even jumping from one phase into another earlier to improve the overall journey."
Cristal Foster, Principal Consultant for Oracle Expert Services, added that a set-it-and-forget-it mindset simply does not work in terms of email automation. "In the early days of automation, many promoted the idea that you could build complex nurtures, turn them on and literally forget about them," she said. "Many marketers did just that — only to discover much later that those nurture emails had broken down over time. As they do with their newsletters and promotional emails, B2B marketers need to revisit their email nurture strategies and content, testing them, optimizing them and adjusting them."
Creative, Mobile-Friendly Content Helps Emails Stand Out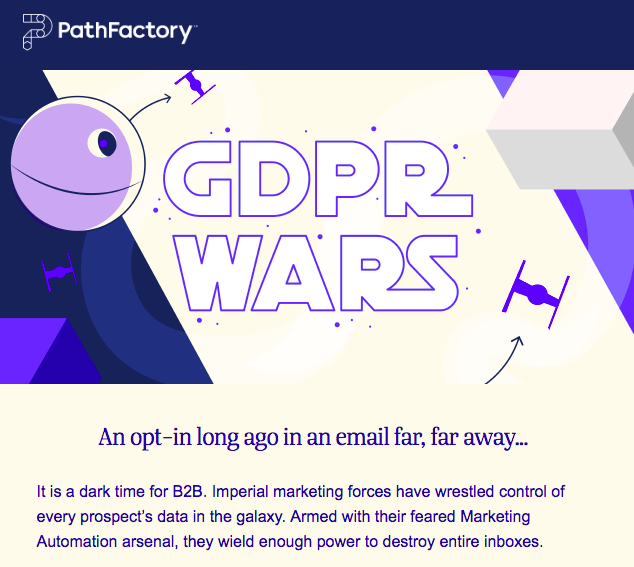 Developing the right messaging to send to the right audience at the right time can often make creativity and other logistics an afterthought, but experts encourage marketers to take a step back and get have some fun with emails, as well as the landing pages they lead to. Spear Marketing's Sewell blames marketing technology and data, as well as the assumption that anyone can write an email for the lack of stand-out content.
"I've long been frustrated at the dismal state of B2B email creative," said Sewell. "Poorly written and poorly designed emails seem to be the norm. These companies would never consider assigning a TV spot, a national print ad or a new website to just any staff member with the time and inclination to produce them. But it's clear that no such standard applies to email creative."
One company getting the creative part right is PathFactory, which took inspiration from "Star Wars" when it came to sending opt-in emails in light of the new GDPR regulations.
During a time when much of their audience was bombarded with opt-in emails, PathFactory sent a "GDPR Wars" email, which positioned the regulation "as the 'new hope' for email inboxes everywhere" and presented their audience with a choice: "opt-in and join the fight against inbox infamy or join the dark side."
According to the company, "in positioning GDPR in a fun email, as a noble cause, [we] didn't just ask for [our] database to opt-in to their future marketing, the campaign gave them a reason to." The email performed 241% better than similar email campaigns, with a success rate of 4.5% compared to the average rate of opt-in-based emails at 1.32%.
Finally, don't forget to go mobile with your email strategies. Making sure emails are optimized for mobile is crucial to engage Millennials and younger generations.
"Don't ignore mobile users," said Roman. "B2B marketers were slower to adopt design practices like mobile optimization and responsive design than B2C marketers, but it has to be part of your email marketing strategy these days. The number of people who are reading your emails on a mobile device is probably much higher than you may think."
This story premiered on our sister site, DemandGen Report.